By Renee Beyda
Surely it wasn't a coincidence that in the winter of 1982, a few months before the new Center on Ocean Parkway and Avenue S opened, Harry Chazanoff was born to a family just a few blocks away. Harry became a blue-blooded Center member and eager camper whose passion for working with children led him to become a dynamic and highly valued director.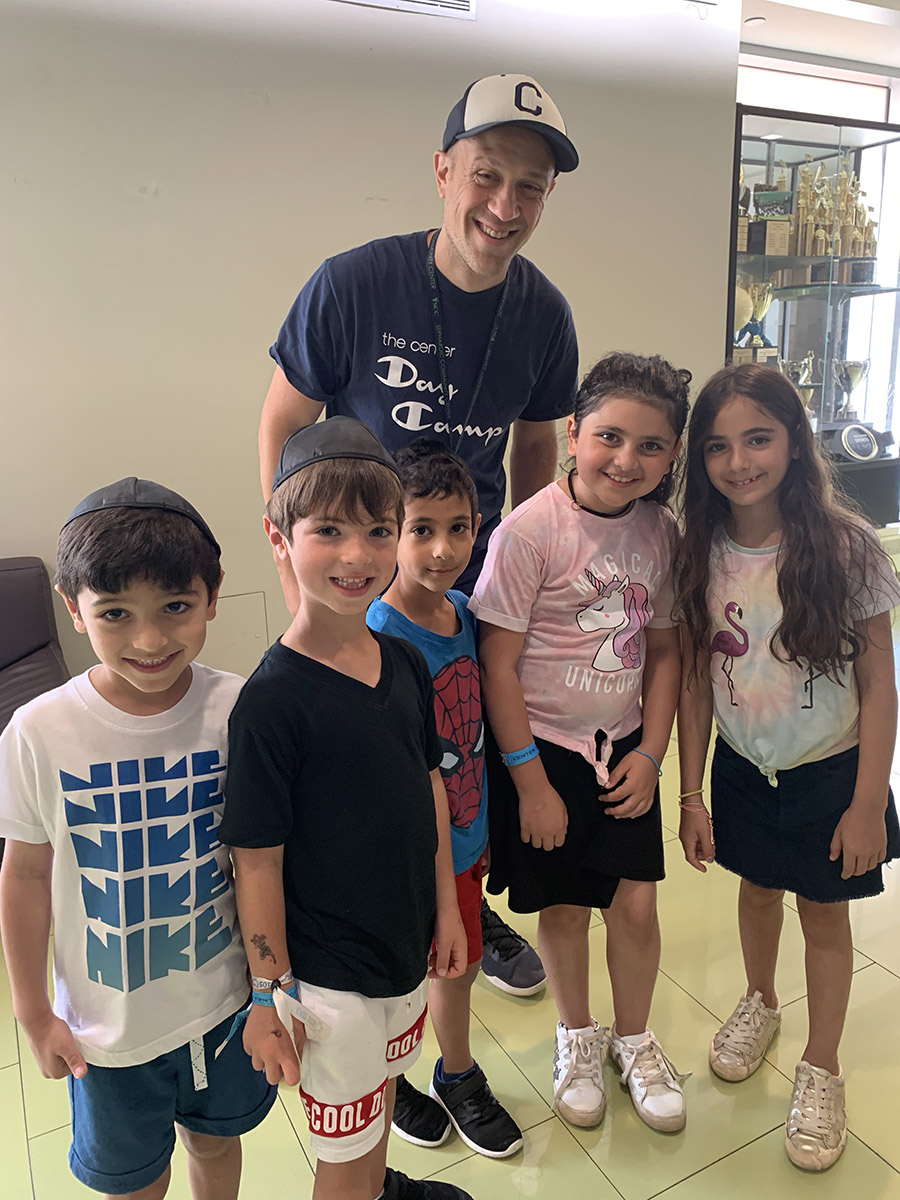 Raised in Brooklyn, schooled in Magen David, and having spent summers as a camper or counselor at The Center, Harry had a peaceful and joy-filled upbringing.
Camp Nurse Yaffa Nachmani,  recalls first meeting Harry when he was just six years old. She gushes, "I fell in love with him. He was so confident. He had all the answers!"
Flash forward to 2019: Harry sits at the Center camp desk as Camp Director and continues to cooly and calmly provide answers for hundreds of Center parents and kids. Before him is a lively computer screen, a buzzing cell phone, and a few printed schedules titled "July" and "August," which he uses to coordinate 450+ campers – aged 3-14 – for a range of activities including swimming, cooking, sports, gymnastics, Bunk Wars, Campers vs Counselors, and the Ninja Warrior Course – just to name a few.
He says, "The prep work is always hard now – getting things off the ground. The minute that first kid walks through that door, the fun begins!"
Wearing a simple black tee and a baseball cap decorated with a large "C," Harry swivels in his chair and gladly shares some of the reasons he loves The Center Camp: "I have such great memories from being a camper. I still remember a few of the counselors who had an impact on my life. One of them has a son whom I now coach. It's like full circle."  
Harry happily shares, "I'm still so close with so many of the people I met in camp 30 years ago. As a matter of fact, I just got back from one of their parties.  With the exception of one, I met all my friends in camp – including my wife Jacquelyn! Now, we have 3 daughters."
Harry recalls a time when he wasn't so happy. Maybe it was because it was the only period in his career when he wasn't connected to The Center. He was working in a jewelry store, not enjoying the job – nor the commute to the city. Then, one day in August 2004, Joey Jerome, a Center Board member, approached him at a tennis tournament and asked him if he wanted to become a Center employee.
Now as Harry, as it takes him just 2 ½ minutes on his scooter to get to work, he is grateful he told Joey yes. Harry also feels extremely lucky he gets to do something he is so passionate about – working with children.
He shares, "When I was 17, I was a head counselor. On the last day of camp, when we were receiving tips, I opened one of the envelopes and was disappointed when I saw no money inside. But there was a card. The parent wrote that her child normally had difficulty making friends and never wanted to attend camp. She thanked me for taking her son under my wing and showing him an amazing summer. I was blown away that I could make that type of impact in a child's life! That was when I knew what I wanted to do in life. FYI it's almost 20 years later and I still have that card."
From June to September, Harry, as Camp Director, is stationed in the easily accessible conference room by the lobby. During the rest of the year he occupies his office on the third floor where the flurry continues. There, with Lillian Ebani, Director of Youth and Camping Services, Harry handles Sunday, Friday and after school programs, birthday parties, plus programming on snow days and holidays.
Between April and June, Harry and Lillian also run four travel baseball teams called The Cyclones.
In conjunction with Athletic and League Director Richie Simon, Harry coordinates free play hangouts in the gyms, as well as coaches and manages 6-7 youth travel basketball teams which play against other teams at local Brooklyn courts.
Another great cause for applause under Harry's jurisdiction is the in-house basketball Program on Sunday mornings called The Ballers. He said, "It's humongous. We started off with just four teens in one grade and now we have multiple teams from second grade to eighth grade, boys and girls. Dads coach – which is great, and we just had our first mom coach this season."
Harry pauses. He wants to mention something important. He says, "I'm very fortunate to have The Program Director Amir Levy as my mentor. He has been my guide from day one. He motivates me to be a leader. I'm also lucky a recurring staff with the same thought processes that I do, so we can continuously make the kids happy."
With a very active family and extended family life, and only Mondays off, Harry's life is more than busy. He describes his occupation as a labor of love. Harry is often asked, "How's everything going?" As he juggles calls, texts, emails, and multiple conversations each day, his reply is always, "Another day in paradise." And he means it.
Want to join the Center Day Camp family?
Join us for the second half of the summer!