By Renée Beyda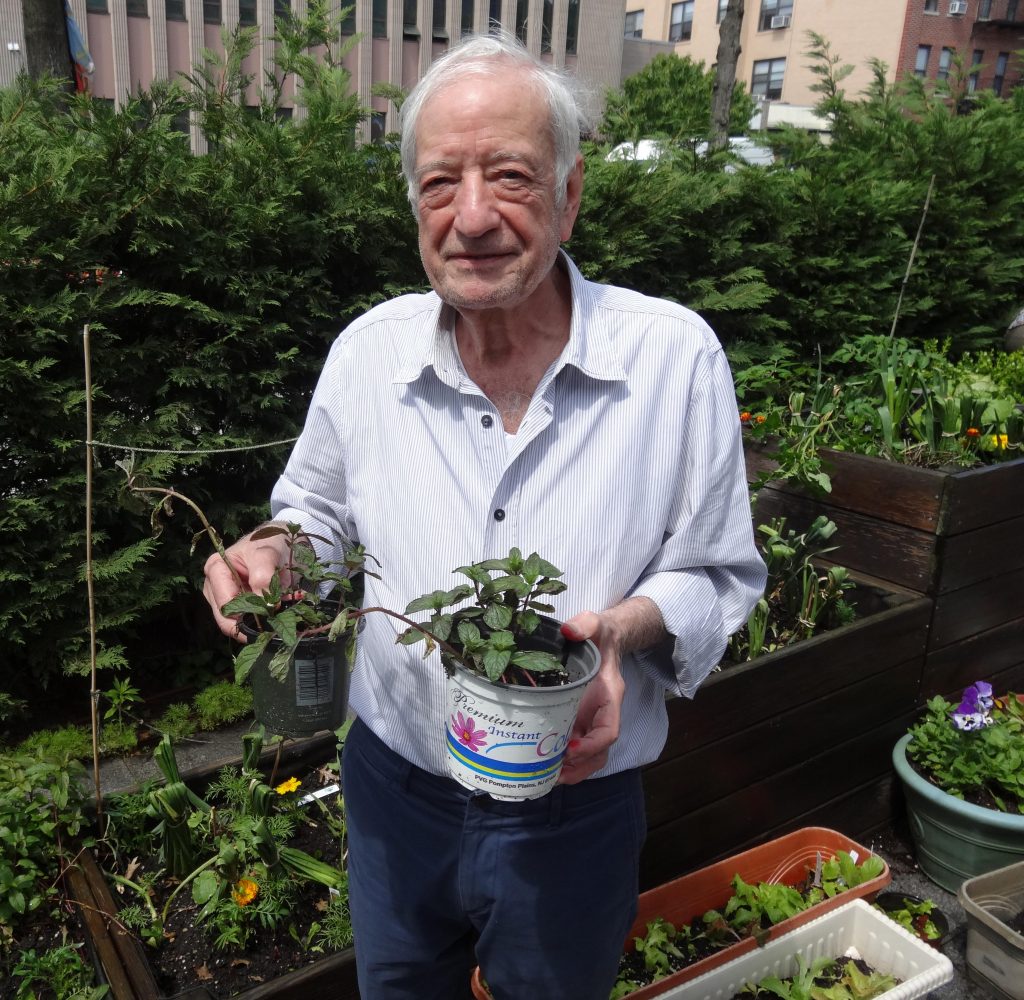 "At 13-years-old, I used to travel an hour by bus to buy hundreds of plants to fill our four huge balconies at our apartment in Egypt. It was my treat to do so." says Jacques Douek with a smile. "We had jasmine, gardenias, roses, mint, and basil – which we used as besamim for havdalah."
Flash forward, about 65 years later, today, Jacques can be found as an active member of The Center's Gardening Club and The Center's Men's Club for seniors – which meets weekly on Thursdays.
Jacques' involvement with The Gardening and Men's Clubs is one of his life's pleasures. He looks forward to meeting with friends there to spend what he refers to as "happy time."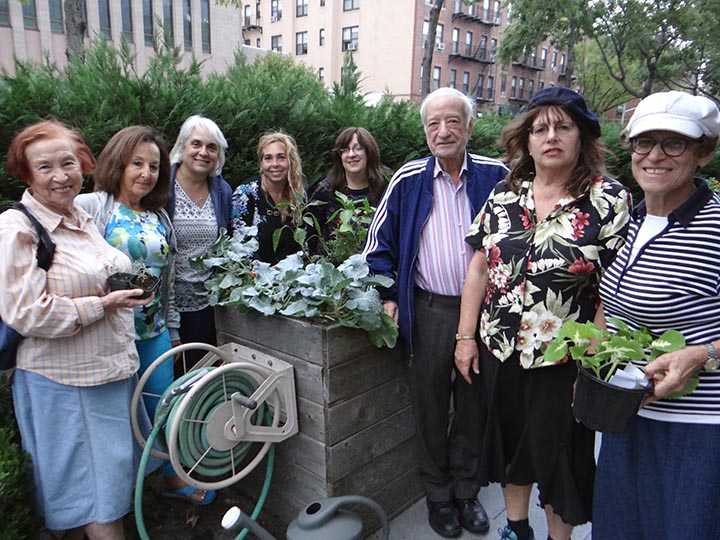 In addition to organizing The Center's social club for widows; groups for those with early or mid-stage dementia, caregiver support groups, and health seminars, Linda Eber, LCSW, Director of Social Services at The Sephardic Community Center also runs the Gardening Club and the Men's Club. "Linda coordinates the programs, prepares lunch and takes care of everyone," Jacques states warmly.
As Linda's colorful flyers display, she prepares a lineup of activities such as virtual bowling, comedians, health seminars, brain games, discussion groups, and movies. She says, "About 20 men attend. Their time together usually lasts from one and a half to two hours. I enjoy seeing the men form new friendships and that they look forward to socializing with each other. It's very special!"
Jacques shares, "Aside from Torah classes I attend at Beth Torah during the day a couple times a week, I was resistant to getting involved in any group activity at The Center or elsewhere. Even though I was a member of The Center before it was built, I'm not a card player, nor do I enjoy dancing, and so, I kept to myself." Now Jacques sees that The Men's Club was just the boost he needed in his retirement, a retirement which came after a lifetime of working full time, beginning at the age of 16.
Jacques tells a bit of his personal history: The setting is his birthplace, Cairo, Egypt, and the year is 1948. Jacques's father, Rabbi Haim Douek, was appointed by  Rabbi Haim Nahum, (known as Hacham Bashi) the then chief rabbi of Egypt, to join the  Beit Din (Jewish Tribunal Courts.) In 1952, he was appointed to join the Rabbinical body of Cairo's Chief Rabbinate and was one of the assistants to the Chief Rabbi. A few years later, Jacques became his father's assistant and secretary. Jacques was in charge of supervising the synagogues, visiting the sick, and helping with other family services. During this time, Jacques also taught Hebrew and Torah at two of the schools in Egypt. He did this till 1966, when they were finally closed down.
Because of the war in 1956 that involved Israel, France, and England over the Suez Canal, many people from the Jewish community were taken to jail and consequently, Jews en masse were trying to leave Egypt. Jacques, who spoke Hebrew, Arabic, French, and English, used to help members of the community gather the documents they needed in order to leave. Hundreds of people sought to prepare their birth certificates, marriage certificates, ketubot, and certificates of good conduct so they could be accepted into a new country. Jacques coordinated with the consulates and  embassies to get visas as well.
Rabbi Abraham Choueka and Rabbi Saadia Mounir, the two other rabbis who worked alongside Jacques father and Chief Rabbi Nahum, both emigrated in 1957. When Rabbi Nahum passed away in 1960, Jacques's father became the Chief Rabbi of the Egyptian community. He is known as the last Chief Rabbi of Egypt. Jacques continued to help his father at the Rabbinate, attending to a variety of the community's needs until 1972 – when the government agreed to let his family go.
Just a week before The Six Day War broke out in 1967, Jacques and his sister both got engaged – on the same day! Jacques's sister and her fiance left the country – after he spent some time in prison. Jacques and his gal Rose had their wedding one month later in a small room at The Rabbinate. The guest list consisted of just ten people, as the government would not allow large Jewish gatherings.
As the Douek family prepared to leave Egypt, tragedy struck. Just 10 days before the departure date, right before Chanukah, Jacques's mother, Rabbanit Justine Douek  passed away from a series of strokes at just 65-years-old. Jacques explained, "The war affected many things. It displaced and separated families, and hurt family life.  My wife's parents also passed away at that time as well. There was a lot of suffering from being kept apart from family members, being trapped in a land hostile to our people, and having loved ones put in jail. In 1967, during The Six Day War, most of the Jewish men were taken to prison."
In America:
Jacques was 33 when he and his family finally arrived in New York in October 1972 with help of the HIAS and NYANA. He got a job immediately on 34th Street and Madison Avenue with Jacob Eisenberg, a"h, who had once been an appreciative guest at his family's table in Cairo.
From there, he went to work for the Tawil family in wholesale and retail as a controller for ten years full-time, and then ten more years part-time. During those second ten years, he worked as well for the Israel Discount Bank. With only a three-year gap – when he worked for a menswear company run by the Harari family – Jacques was an officer in the bank from then until 2006.
Jacques finished a three year banking educational program, the American Institute of Banking, in a year and a half; got his insurance license, his real estate license, learned bookkeeping and computers, had three children and led a very active life!
Naturally, when Jacques was let go  from the bank along with 150 other employees in 2006, it became a very trying time. Jacques found himself feeling empty. He said, "I felt like I was a nobody and I got sick."
Today Jacques is passionate about recruiting others to join The Men's Club because he sees how it revitalized his life. He said, "I know a lot of men my age who go to Dunkin Donuts to get together, but here," Jacques said as he waved his arms around the bustling Center lobby, "We are in the family."
As hundreds of daffodils pop through The Center's garden this spring, it is Jacques Douek's hope that more senior men in retirement will join The Men's Club and feel a sense of renewal, as he did.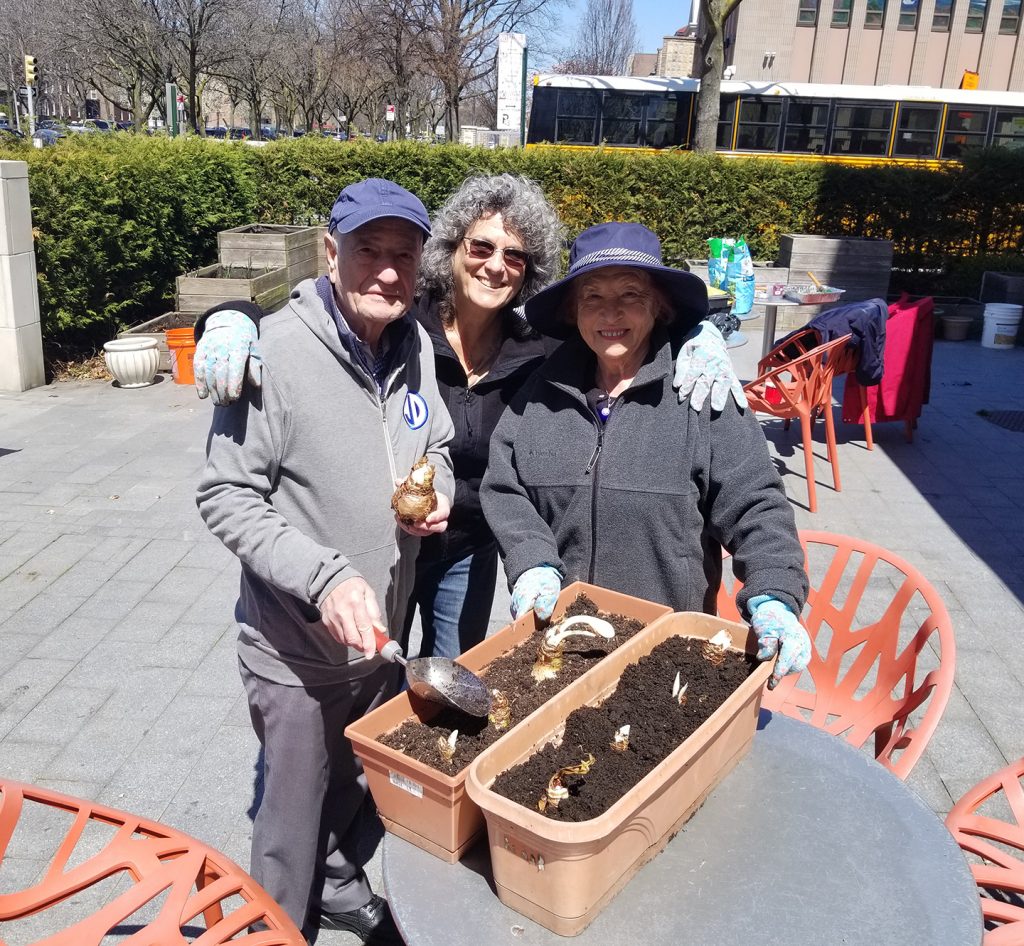 Our next Gardening Club is coming up on Tuesday, June 11. Click here for more info.
For more information about The Men's Club, call Linda Eber at 718-954-3154, or click here to email her.
Renée Beyda is a community member, wife, mother, freelance writer, tweeter, and artist.