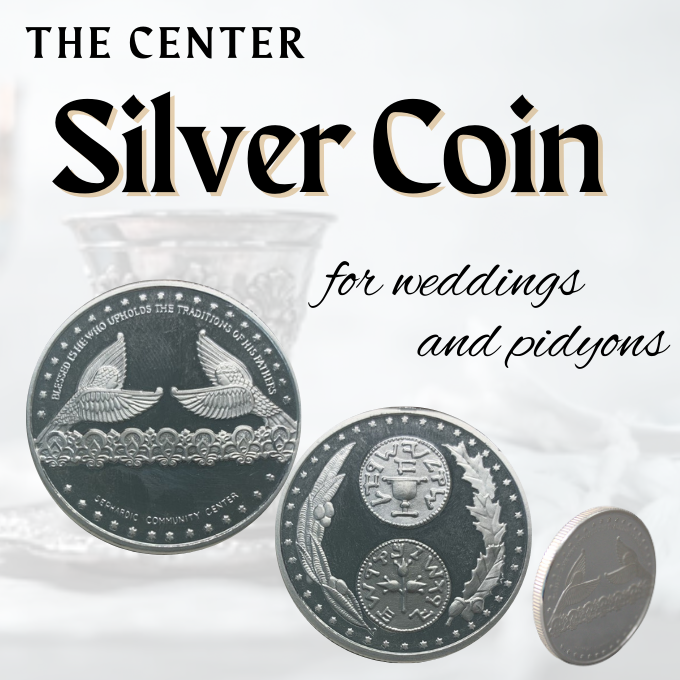 This pure silver coin was designed by Trina Sultan, and minted specially for the Sephardic Community Center.
1 for $126
5 for $500
To order your coins, please call the Center Fronk Desk at (718) 627-4300.
———————————
This pure silver coin has been developed and crafted with painstaking attention to details and is perfect for you wedding or Pidyon.
Each symbol on this special coin has its own meaning. On the front are the Cherubim that protect the tabernacle — the home of our holy law. Curving gracefully around the upper portion is the saying, "Blessed is he who upholds the traditions of his fathers."
The reverse side of the coin features replicas of the Tyrian shekels first used by our ancestors. These shekels show on one side a chalice with smooth rim, pearl on either side with a flat base with pearled end. The Hebrew inscription reads, "shekel of Israel" and the date (aleph) "Year 1" above the chalice. The other side of the shekel depicts a stem with pearled base and three pomegranates surrounded by the Hebrew inscription, "Jerusalem the holy."
On the left side, next to the shekels, is an olive branch signifying our historic roots in the Middle East. On the right side is an oak leaf branch, which represents our current home in America.
On the outer rim of the coin two phrases have been engraved in Hebrew: "Behold, you are sanctified unto me with this coin according to the laws of Moses and Israel", and "And every first born shall be redeemed".