Janice Mizrahi
Graphic Designer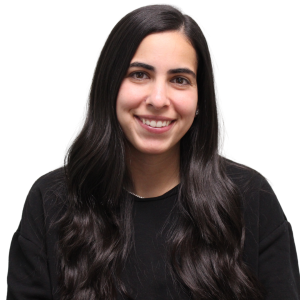 "I love being able to see my work posted for tons of people to see. It gives me a sense of joy when others see what I create and appreciate it."
From a young age, Janice was fascinated with design. Janice would always doodle pictures in her notebook in school, and she would color/paint whenever she had the chance.
Before joining the Center team, Janice worked from home doing freelance design for the community: from logos to invitations, labels for parties, and much more. Janice received her Bachelors of Arts degree from Brooklyn College. While in college, Janice took many art classes and had to take a Graphic Design course as part of her requirements for her major. Once she took the course, Janice fell in love with Graphic Design and hasn't stopped loving it since.
Janice believes there is always more to learn as the industry is forever changing, and that you can never know everything. Janice embraces how there's always room to grow, and that makes her a powerful asset to the Center.