Nicole Poloso
Group Fitness Director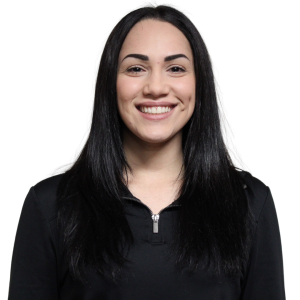 Nicole Poloso is a Brooklyn native who first discovered fitness during her college years at The Fashion Institute of Technology, where she studied Advertising & Marketing Communications. She started off as an NYC publicist running the communications, events, and social media for well-known brands such as PopCorners, UV Vodka, Bugaboo, Dansko, CARLISLE, Nordstrom, and even the restaurants of Daniel Boulud. Feeling unfulfilled as a publicist, Nicole turned back to fitness as a personal outlet and the rest was history. Nicole immediately got certified through ACE as a Group Fitness Instructor and continued to earn additional specialty certifications in POUND, Generation Pound (children's fitness) StrongNation, Zumba, and TRX over the years. She previously managed the group fitness program at Chelsea Piers' Brooklyn location, and now serves the Center as its new Group Fitness Director.
Nicole is a huge advocate for mental health, often participating in the American Foundation for Suicide Prevention's Out of the Darkness walks and can be found in her own classes teaching about the connection and importance between both physical and mental health.
When she's not managing or teaching Group Fitness Nicole enjoys traveling, going to live music events, and testing out new recipes at home.