Yoni Perkins
Guitar, bass, rock ensemble, & senior therapeutic music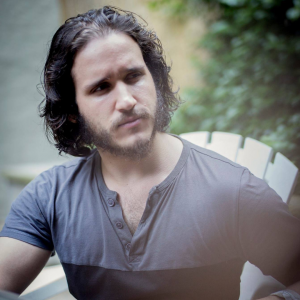 Known best for his performance work on the guitar and bass, Yonatan has composed music for a variety of different settings and genres, ranging from radio and Youtube commercials for companies like LinkedIn and Airbnb, to musical theater to hip-hop & rock acts. He has also worked extensively in the NYC and NJ music scenes as a producer and studio/live sound engineer.
He received his B.A. in Music (classical) from Columbia University with a concentration in Philosophy. He has also completed non-degree and certificate programs at NYU and Berklee College of Music. He began early private composition study with the late Dr. Dennis Kam, former chair of UMiami's Frost School of Music, and more recently with major Jewish-American composer Bruce Adolphe. He has also been mentored for years by and performed numerous times with 2-time grammy nominee, bassist Tony Levin (of King Crimson, Peter Gabriel, John Lennon, Pink Floyd & David Bowie fame).
Yonatan brings an eclectic background, melding rigorous academic training in classical and jazz idioms, with a contemporary sensibility and extensive experience in pop/rock/blues/R&B and hip-hop.
As a member of several touring acts, he has been part of several national US tours and one European tour with acts such as Etherius, Sinaro, Mari World, and Garek. He has been featured in Downbeat magazine, and has received awards from The Billboard Society, Downbeat, The American Composers Orchestra, and Columbia University.
He has also worked with several volunteer groups providing music instruction to underprivileged youth in Miami, and musical activity programming for senior citizens.