Jump, kick, toss, slam, punch, and push yourself into the best shape of your life.
What can be said about a group fitness program that has helped so many accomplish so much? How about, "What's next?"
Class schedules and formats are tailored to match the day-to-day needs of our members — and their bodies. Classes focus on weights, cardio, dance, yoga, spin and many more. Pricing options are available for all levels of dedication and range from unlimited class passes, for our warriors, to our pay-per-class option for those just getting back into the mix.
Join the team and combine friends, family, and fitness! We can't wait to see you there.
+OVER 40 WEEKLY CLASSES
+ 5 STUDIO ROOMS
+ NYC'S FINEST INSTRUCTIONS
+ TRENDING CLASS FORMATS
+ FRIENDS AND FAMILY
Don't miss out! Follow @sccgroupx on Instagram to stay up to date with all the latest classes, news, and info.
Classes
We offer a variety of classes so you can pick the one that suits your body best!
Barre
Yoga
Strength
HIIT
Toning
Sculpt
Spin
Cardio Dance
Pilates Mat
Kickboxing
Pricing
Buy-A-Bunch (for SCC members only)
10-class coupon, $200
Pay-As-You-Play for those who like to drop-in
Members: $25 per class
Non-Members: $35 per class
Unlimited Monthly Classes (for SCC members only)
For young adults (ages 17-21): $130/month
Requires a 5 month commitment: $175/month
Requires no commitment: $199/month
Pilates — 60-Minute Sessions, Individual (Private)
Single session                    $90
Package of 10                     $850
Pilates — 60-Minute Sessions, Duet Session
2+ people                     $55 per each attendee
Please note: A $100 early cancellation fee applies to all unlimited cancellations
Click here for more photos and the latest updates from Group X.
Group Fitness Testimonial
"Where else can you take great fitness classes amongst your friends and family?"
Sophie B.
Group Fitness Testimonial
"There's nothing like the Center's program — beginner, advanced … there's something for everyone!"
Flo T.
Group Fitness Testimonials:1
"The Center has the best exercise classes and the schedule is perfect!"
Susan G.
Contact Us
For more information, please contact Nicole Poloso, Group Fitness Director at [email protected] or call (718) 627-4300 EXT. 3166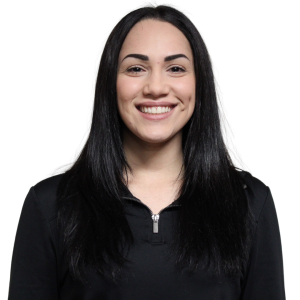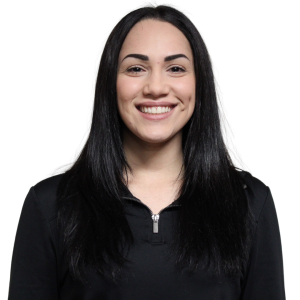 Nicole Poloso
Group Fitness Director
Nicole Poloso is a Brooklyn native who first discovered fitness during her college years at The Fashion Institute of Technology, where she studied Advertising & Marketing Communications. She started off…
read more