Reopening Updates and Information
Visitors are asked to sign COVID-19-related waivers when first using the facility.
That form is available upon check-in — or, you can save time by printing and signing that form now.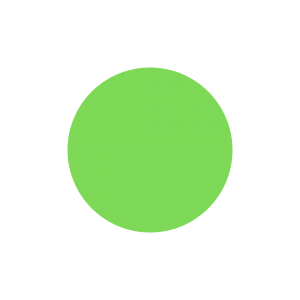 THE FOLLOWING FACILITIES AND PROGRAMS ARE OPEN:
Fitness Center: Overview
CLICK HERE TO BOOK YOUR APPOINTMENT
+ The fitness center is open on an appointment-basis as of September 2. We are doing so in accordance with New York State law and while strictly following CDC guidelines. Detailed instructions on how to book your appointment and what to expect during your visit can be found below.
+ Outdoor group fitness classes are ongoing and low risk group fitness formats are scheduled indoors. For more Group X news or the complete schedule visit the Group X page and follow us on Instagram @sccexercise.
Fitness Center Reopening: What to Expect
For Fitness Center hours, please click here.
Booking Your Appointment:
New York State mandates that we operate at 33% capacity and maintain proper social distancing within the gym. In compliance, visits to the gym are done on an appointment basis. There is no guarantee that we can accommodate walk-ins.
Workouts are fifty (50) minutes in length, leaving us ten (10) to deep clean. So that everyone can be accommodated, appointments are limited to one visit per member, per day.
The first week is our soft opening. Appointments can be booked on our website. Click here to book.
Please cancel your appointment if you are suddenly unable to attend. No-shows will be tracked.
Before Your Visit:
Make sure to have your appointment booked. Check your confirmation email after booking to make sure you have the right date and time.
Please bring a towel. Gym towels (and showers) are not available at our facility for health reasons. This will change as regulations are updated.
Make sure that you're feeling well before your visit. If you or someone you have been in contact with are showing symptoms of COVID-19, please stay at home.
At Our Facility:
Arrive on time.
Wear a mask in all areas of the building, even during exercise.
Your temperature will be taken. Those with temperatures of 100 or greater must unfortunately be turned away. You'll also be asked to sign a Covid-19 waiver.
Practice Social Distancing
With your safety in mind, we are committed to touchless check-in. Scan the barcode found in your TheCenterSCC app. IMPORTANT: If you need help getting set up on the app, email our friendly Concierge Service at [email protected] Doing this now will save you time.
A security team member will verify your membership and double-check your appointment. To help expedite the check-in process, screenshot your appointment confirmation.
Wipe down all pieces of equipment that you use. Strictly enforced.
Enter and exit on time, please.
Once you're back in the building, you'll notice some upgrades to our lobby's appearance and some changes to the sign-in process. Please be patient with us as we'll be implementing these changes with your safety in mind. You can review some of our new guidelines below: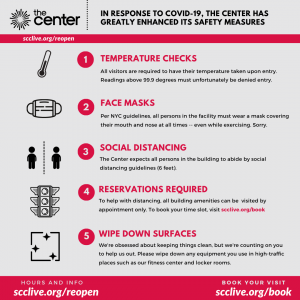 Ballers, our youth sports league, is scheduled to return in mid-October as an instructional, developmental and non-competitive league.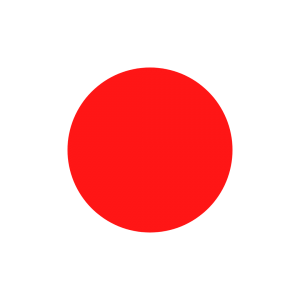 FACILITIES  THAT ARE CLOSED
There is no word yet about the reopening of the pool, the health spa, free play or adult basketball leagues. Be sure to visit this site again for the news as it breaks.
For more info or any questions, please call our Concierge Service at (718) 954-3150 or email Jamie Simon at [email protected]
Even though we're still operating many areas virtually, we still haven't forgotten how to throw memorable programs and epic special events.
Visit our Event Calendar for an expanding list of exciting programs. You won't want to miss out!