Are you ready to up your cooking game?
Create and indulge in flavors from around the globe at the Center's Sultan Culinary Institute. Students enjoy learning in a spacious, commercial-grade, certified-Kosher kitchen. Our ultra-modern facility has separate meat and dairy kitchens and plenty of space for demonstration and hands-on participation. Top-notch chefs headline our lively day classes, exciting night classes, and best-ever birthday parties, for ALL experience levels. Our classes are great for novices, professionals, and every foodie in between. Bon appétit!
All regular classes have a maximum of 15 participants unless otherwise indicated.
Culinary Policies
We ask that all members adhere to the following policies in order to create an optimal experience for everyone!
Class Etiquette
Cell phones are not permitted in class. If you have to make or pick up a call, please  exit the classroom to do so.
Babies and small children are not permitted in our kitchen while class is in session.
Outside foods are strictly prohibited at all times, no exceptions!
Cancellation Policy
A full refund or credit will be granted for any cancellation made two weeks or more in advance of the class. A cancellation made less than two weeks in advance or a no show, will result in a loss of the class fee.
The Center reserves the right to cancel at its discretion. In the event of a cancellation, students will be given a choice between a full refund and class credit.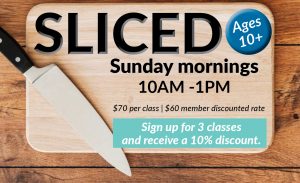 This exciting culinary program guides you through different dishes, cuisines, cooking and baking techniques, and more.
See below for a list of our classes and registration links.
Oct. 29 – School Lunches
Nov. 5 – Knife Skills
Nov. 12 – Sambusak & String Cheese
Nov. 19 – Tapas
Nov. 3 – Decadent Desserts
Culinary Birthday Parties
Let the Center take care of your birthday party! All you have to do is provide us with your tastes and interest and we'll take care of the rest.
Our parties include a full 5-course meal to be prepared in our kitchen with your guests, wine and birthday cake included. After enjoying the fun and cooking excitement, sit down, relax and enjoy your creations.
For more information, contact Kathy Shabot at 718-954-3146 or [email protected]